This post may have affiliate links. If you click one of these links and make a purchase, we will be paid a commission at no additional cost to you.
These Halloween wreath ideas are sure to dress up your front door this fall.
Decorating your home for different holidays throughout the year can be so much fun. But if you're not up to totally transforming your house for each holiday, you can still celebrate the season with one simple decorative element – a wreath.
Swapping out the wreath on your front door is an easy way to decorate your home for the season without going all out with your holiday display.
This year, add a fun Halloween wreath to your home's front door to welcome your guests with a little bit of holiday flair. Need some inspiration for your front porch this year? Check out these 15 beautiful Halloween wreaths for your front door.
Halloween Wreath Ideas
Halloween Burlap Wreath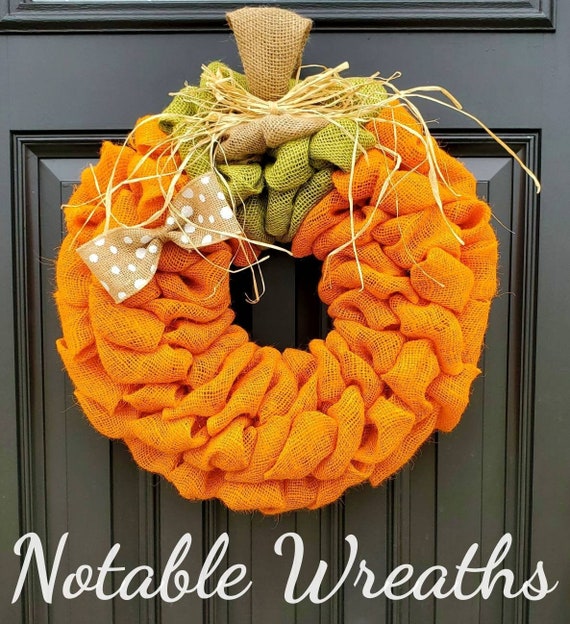 This simple burlap pumpkin wreath is perfect for Halloween, but it can also last you the entire fall season!
Decorated with bright orange burlap and accented with green leaves and a brown bow, this cute pumpkin wreath is a great way to celebrate the fall season with a little bit of rustic style.
Spiderweb Wreath
If you're looking for something a little bit more elaborate this Halloween, you'll love this decorative spiderweb wreath.
Featuring a black spiderweb in the center, this beautiful Halloween wreath is accented with Halloween lights, spiderweb ornaments, and black roses, making it the perfect way to add some Halloween drama to your front door.
Black Cat Burlap Wreath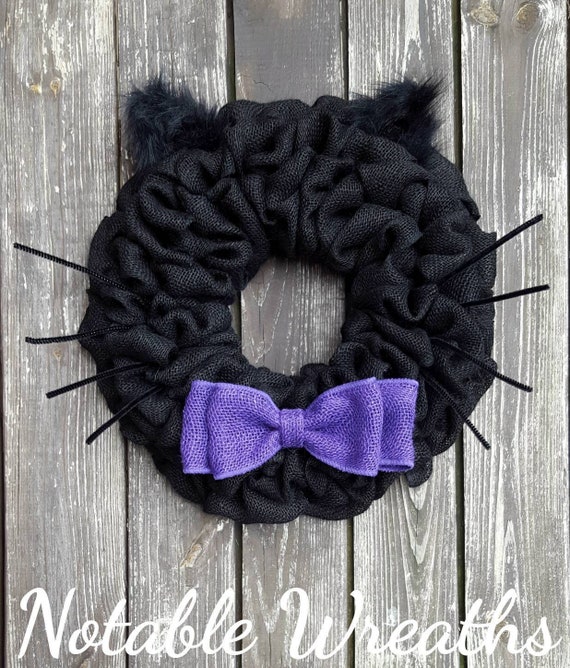 Burlap isn't just great for creating a pumpkin, it can also transform a plain wreath into a spooky black cat.
Constructed of black burlap, with a cute purple bow and furry black ears, this fun Halloween wreath is an adorable way to accent your Halloween front porch.
Black and Orange Floral Wreath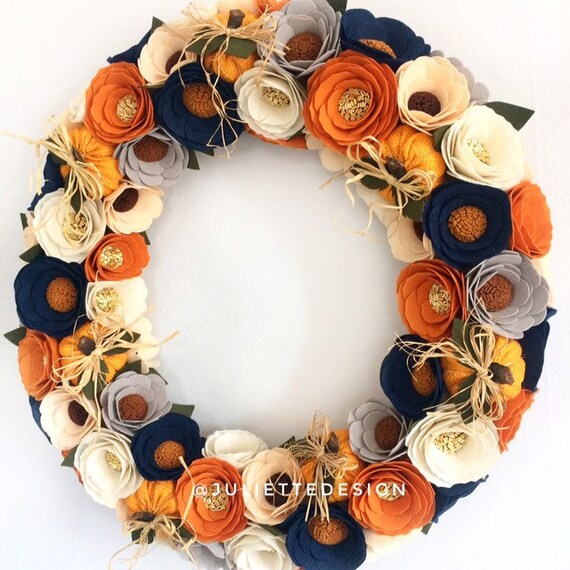 Spooky Halloween decorations aren't for everyone, which is why I love this black and orange floral wreath. It's a great way to decorate for the holiday without adding creepy decorations to your home this Halloween season.
Witch Hat Wreath
Witches are a fun Halloween character to incorporate into your décor. And this adorable witch hat wreath, featuring a selection of brightly colored decorative ribbon and striped witch legs, is an awesome way to add a fun accent to your front door this Halloween.
Cute Ghost Wreath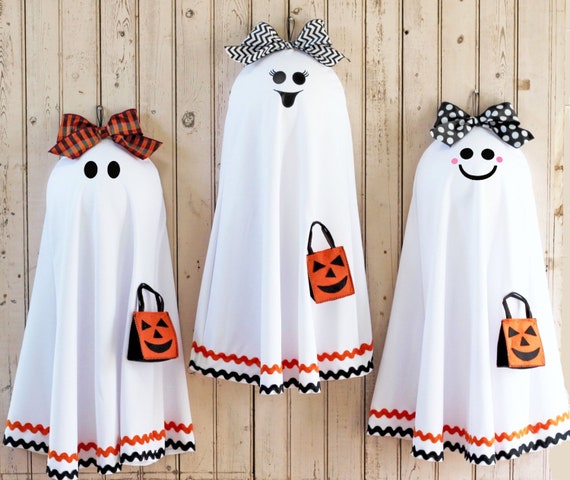 Not all Halloween wreaths have to be traditional round door hangers. Sometimes you want something a little different!
These cute ghost wreaths fit the bill. With adorable ribbons on top and fun trick or treat bags, these adorable ghost door hangers are a fun way to decorate for the holiday.
Black Feather Wreath
Add a little spooky class to your front door this Halloween with this beautiful black feather wreath. Constructed of dark black cocktail feathers, this unique wreath will surely add a little style to your front porch this year.
Freddy Krueger Wreath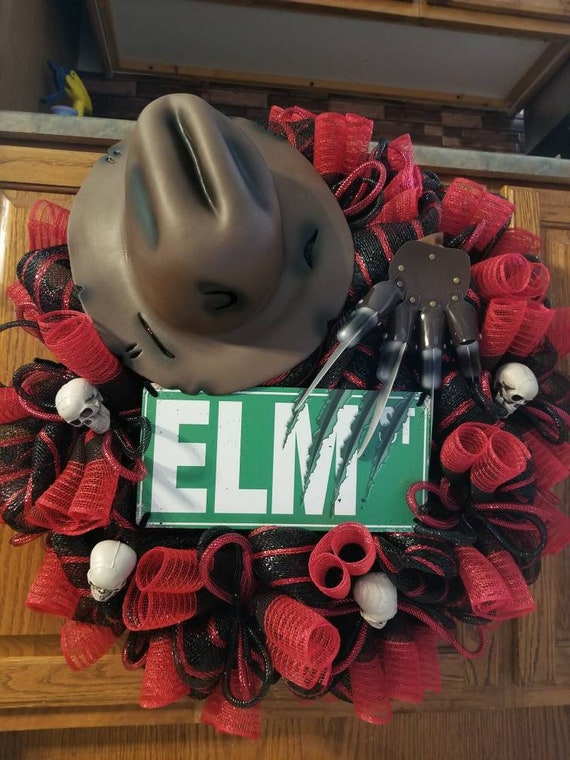 Everybody loves a scary movie during the Halloween season! Show off your love of horror movies with this Nightmare on Elm Street-inspired wreath, featuring Freddy Krueger's iconic hat and sharp claws.
Candy Corn Wreath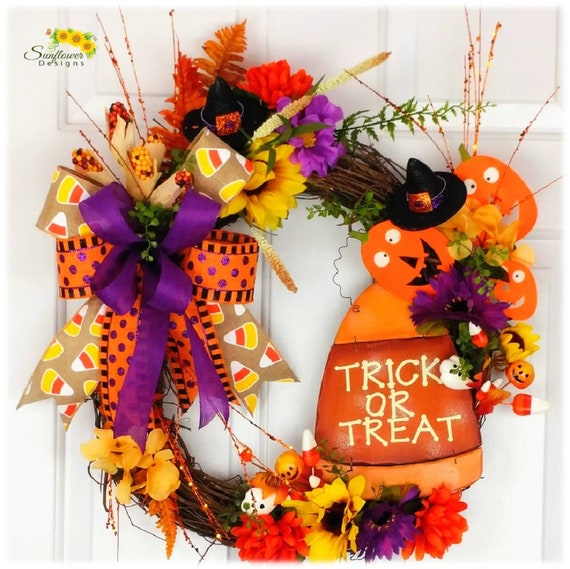 Have a little fun with your Halloween décor this year with a cute candy corn wreath.
With a cute Halloween bow and an adorable hand-painted sign, this cute grapevine wreath is a welcoming way to say hello to guests this Halloween.
Orange and Black Ornament Wreath
Decorating with ornaments doesn't have to be confined to the Christmas season.
A wreath featuring orange and black ornaments is a classic way to celebrate Halloween.
Flying Bat Wreath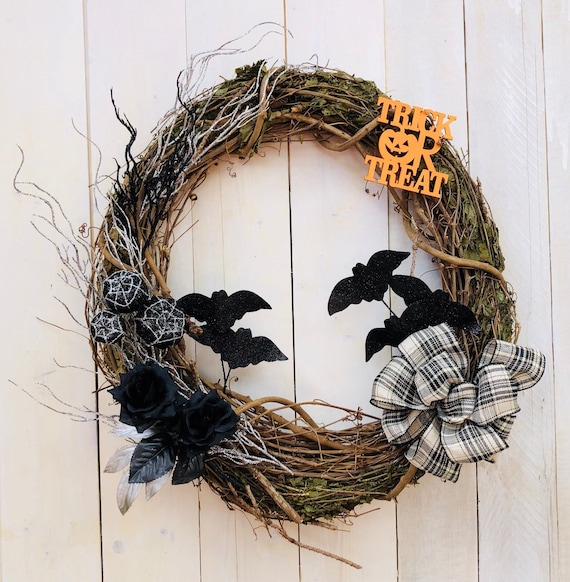 Looking for a rustic option for your Halloween front door? This farmhouse style flying bath wreath is perfect!
With black bats flying atop a rustic grapevine wreath, this simple Halloween wreath is a great way to decorate your front porch this year.
Boo Sign Wreath
Mesh wreaths are a popular option, no matter what season it is. That's why I love this beautiful Halloween mesh wreath, constructed with black, orange, yellow, and white mesh with a cute removable "Boo" sign in the middle.
Black and Orange Deco Mesh Wreath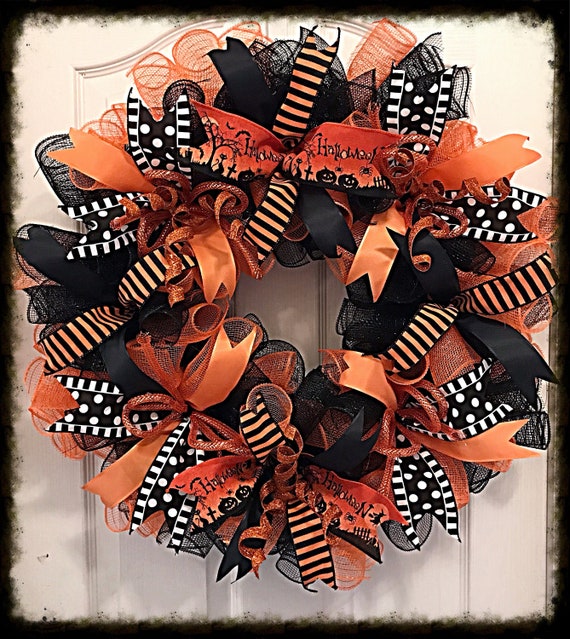 And this pretty black and orange deco mesh wreath is another beautiful option for your Halloween front door. I love how the black and orange mesh is accented with patterned ribbons!
Grapevine Spiderweb Wreath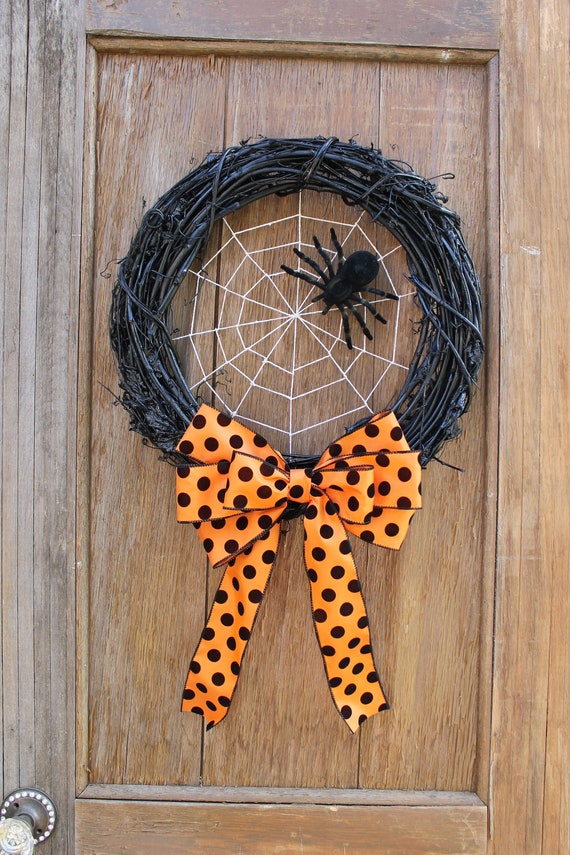 Sometimes a simple design is all you need to make a big statement.
This cute spiderweb wreath, constructed of a painted black grapevine wreath with a white spiderweb in the center and orange polka dot bow on bottom, is a wonderful way to make a simple statement this Halloween.
Pip Berry Wreath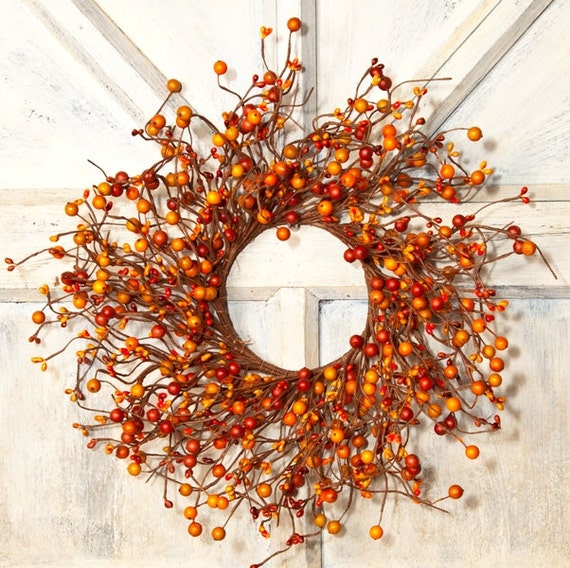 Looking for a beautiful Halloween wreath that can last you through the fall season? This lovely pip berry wreath is a great option!
The fall colors on the berries make it perfect for decorating during the autumn months, while also allowing you to use the wreath to accent the rest of your outdoor Halloween décor with ease.